Welcome Friends
Come rest with us
Beside Still Waters,
drink of the Everlasting
Streams from Jesus Christ,
the Great Shepherd of
our souls.
We long for the "river"
that flows from the Throne
of God, that crystal clear
stream of Eternal Life, beside
which, and on either side of
that stream where grows the
Tree of Life with a new fruit
each month and the "leaves"
of that tree are for the
healing of the people
who are saved !
The Lord is My Shepherd,
I shall not want,
He maketh me to lie down
in green pastures;
He leadeth me beside
the still waters,
He restoreth my soul.
He leadeth me in the
paths of righteousness,
for His Name's sake,
Yea, though I walk through
the valley of the shadow of
death, I will fear no evil,
For Thou art with me,
Thy rod and Thy staff,
they comfort me.
Thou preparest a table
before me, in the presence
of mine enemies;
Thou annointest my
head with oil,
my cup runneth over,
Surely goodness and mercy
shall follow me
all the days of my life,
and I will dwell in the
house of the Lord, forever.
Psalm 23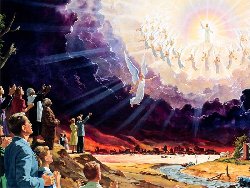 Jesus is coming very soon !